Barbados might be one of our favorite islands for so many reasons. The turquoise water is breathtaking, the cliffs on the north side of the island are magnificent, and the people are amazing! What's not to love? We had visited Barbados pre-Sandals so when we found out Sandals was coming to Barbados, we were beyond excited and were finally able to take a trip there recently. The easy decision was going; the tough decision was figuring out which Sandals resort in Barbados we wanted to visit!
There are two Sandals resorts on the island, so we had to make the choice. Now, I get to help you explore the differences between them to decide which one is right for you. The great part is the resorts back up to one another and is only separated by a sidewalk along the perimeter of the resorts. In addition to that, Sandals resorts are fantastic in that there are exchange privileges meaning you get to use the amenities of any sister resort on the island (barring Royal Plantation in Jamaica). So, if you want to partake at the pool party with the DJ in the Royal Barbados pool and then want to jump over to Dino's on the Barbados side to grab a delicious ricotta and garlic confit pizza, you can do exactly that and not miss out. These exchange privileges equate to double your choice of pools, restaurants, entertainment, and bars!
You might be wondering if you have equal access to everything and what's the difference in which side you pick to stay? Sandals Barbados was the original Sandals property in Barbados as it took over another resort that previously existed there. These rooms tend to show their age a little more, but they are a cost-effective way to get you to the island and still enjoy an incredible all-inclusive vacation. If you don't plan on using your room much, this might be a great option for you.
Sandals Royal Barbados, on the other hand, was built in the past few years and notably felt fresher and more upscale than the original side. And the rooms tended to follow suit as they were a little more lavish. After traveling to so many of these resorts in the Caribbean, my husband and I have learned that we prefer these types of rooms, but that also comes with a price tag. We want every single aspect of our vacation to feel like a retreat, so we enjoy the swim-up suites or the rooms with a tranquility soaking tub on the balcony overlooking the ocean (the Barbados resort does have a few of these). That little bit of extra luxury allows us to relax in the privacy of our room. And let's not forget the room service either. All rooms on the Royal Barbados side include it which is a must for us!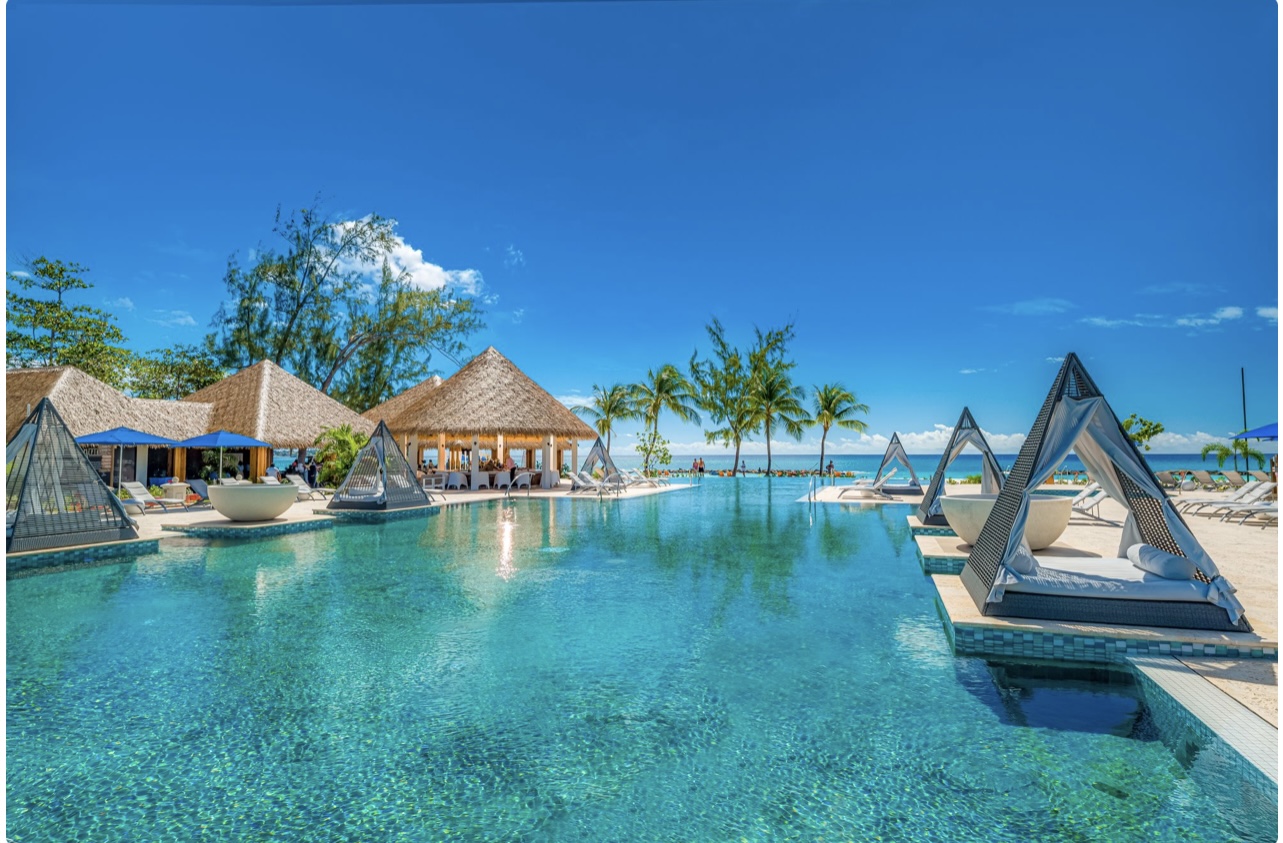 So, what else is different? Sandals Barbados is definitely more mellow than Sandals Royal Barbados in our opinion. Not to say that Royal doesn't have excellent relaxation areas, in fact, the more we travel, the more we've noticed that all Sandals resorts have sections that are intentionally more chill than others. But specifically, none of the pools at Sandals Barbados are super active, except for maybe a pool volleyball game at its main pool by the beach from time to time, which makes their pools perfect for reading or just enjoying a tropical drink. On the flip side, if your speed is live DJs and dance parties by the pool, the Royal Seaside Pool at Royal Barbados is definitely the go-to spot. Thankfully, there are more options than just those two extremes though, so if you want something in between, there are many other pools to choose from on both sides! We personally found ourselves enjoying the rooftop pool and hot tub most frequently at Royal.
Royal is also much more active at night and a lot more of the nightly entertainment seems to take place there. There are events at the bar on the rooftop pool, as well as the courtyard by the bowling alley. There are also tv's and couches outside the bowling alley, so all of the football games draw a crowd. You might now be worried if you were considering one of the rondavels with your own private pool at Royal. Let me put those fears to rest though as you are still far enough back from the hustle and bustle to enjoy the privacy of your secluded villa. Sandals Barbados does have its own entertainment with an open-air piano bar and occasional live music in the courtyard where several restaurants convene, but again these are tamer than some of the other events at Royal.
To help you truly decide which resort is best for you, I would suggest that you determine whether you prefer to wake up to the sunrise or wake up to the smell of bacon cooking or your bloody Mary at brunch. That will help you choose which side might suit you best. As a reminder again though, Sandals does offer exchange privileges between the two resorts so you are free to roam between them.
Regardless of which you choose, there's something for everybody at both and you really can't go wrong! Reach out today if you have any questions or want help booking and navigating the COVID requirements.