Let's face it, sometimes it can be difficult for tweens and teens to get excited about rides at Magic Kingdom. It can seem that Magic Kingdom has more rides and attractions for smaller kids.
Here's my top 10 rides for tweens & teens by location:
Tomorrowland:
1. Astro Orbiter
This high-flying ride sometimes gets overlooked. Maybe because in order to board this 2-person spacecraft, you take a quick elevator ride up to the launch pad. You're able to control how high you fly by pulling or pushing the lever inside your retro spacecraft.
The best time to fly is at night to get a great view of the park light up at night or during the fireworks for an extra special view!
2. Buzz Lightyear's Space Ranger Spin
Get ready to help fight Zurg from stealing batteries from helpless toys by aiming your infrared laser cannon at the glowing Z targets. As a Junior Space Ranger, you'll be able to control your star cruiser to spin a full 360 degrees to get your targets. You'll also be racking up points when you successfully hit your targets. Sounds like it might be time for some friendly competition!
3. Space Mountain
A legendary coaster. If you're a little afraid of the dark, you might want to rethink this one. You'll race through space in the black darkness while flying past shooting starts and satellites. This is definitely one that you'll race to get back in line to ride again.
4. TRON Lightcycle
Relive the excitement of watching TRON in the theater with this coaster! You'll climb abord your own Lightcycle and take off on an adventure. It's one of the fastest coasters at any Disney theme park in the world. That's saying something!
Frontierland:
5. Big Thunder Mountain Railroad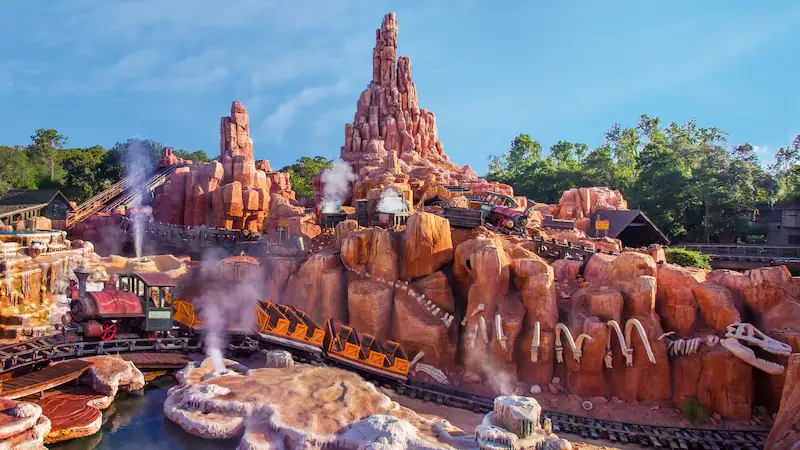 This legendary abandoned mine shaft railroad is a fast-moving fun coaster with quick turns and swoops along a rickety track as you dodge exploding. It will definitely give your stomach a run for its money!
Fantasyland:
6. Mad Tea Party
Grab a few of your family members and friends and step inside a giant teacup during a madcap music-filled whirlwind. Once the tea party starts, you'll soon circle and twirl around a towering teapot. You'll also be able turn the wheel faster for an even wilder ride!
7. Seven Dwarfs Mine Train
One of the newer coasters at Magic Kingdom, features a unique creaking cart that teeters back and forth as you climb and race down the foot of the mountain. You'll also twist and turn through the mountain and get peak at diamond mine itself!
Liberty Square:
8. Haunted Mansion
There's something extra creepy about the Haunted Mansion just by looking at it. Everything leading up to boarding your Doom Buggy only adds to the experience. The voice of your Ghost Host will be sure to linger with you throughout the day and the hitchhikers will be sure to put a smile on your teens face (even if it's during an eyeroll)!
Adventureland:
9. Jungle Cruise
While this isn't any type of thrill ride, you'll tween will be sure to enjoy the dry comedic humor provided by your trusty skipper as you embark on a boat tour of exotic rivers across Asia, Africa, and South America. Be sure to watch out for angry hippos, hungry lions, and be on the lookout for a missing Jungle Cruise vessel and its helpless passengers!
10. Pirates of the Caribbean
This is a staple must ride, in my opinion. You'll board vessel for a dangerous voyage to the 17th century, where you'll get a taste of a pirates life! There's a lot to see and experience as pirates sing their anthem song of "Yo ho, Yo ho (A Pirates Life for Me)."